"Building back better": How business can support refugees in the post-COVID world
Even as COVID-19 wreaks havoc in the U.S. and Western Europe – regions with first-rate healthcare systems and social safety nets – we haven't fully grasped the scale of the pandemic and how it will affect the world's most vulnerable populations.
Of the world's nearly 26 million refugees, about 80 percent are hosted in middle or low-income countries like Turkey and Jordan. Governments, NGOs and international organizations like the UN Refugee Agency are working tirelessly and with limited means to minimize the spread of the virus under incredibly difficult conditions.
But even for those refugees fortunate enough to have resettled in high-income countries, the likelihood is that they will be more vulnerable to the economic fallout from the virus. As newcomers, their financial "safety net" is likely to be precarious. In the United States, refugees receive very modest financial support for only the first eight months after they're resettled, while being expected to repay the cost of their flight. And, while many countries like the U.S. have enacted legislation to respond to people's economic needs during this time, many refugees have been left out and are unable to receive cash payments, unemployment benefits, and other much needed relief.
As we deal with the immediate aftermath of the virus, there's an urgent need for financial support to the many nonprofit organizations that serve refugee communities – and businesses have an important role to play here. However, as we look past the immediate crisis and consider how we can "build back better", the business community can have the greatest impact, not through charity, but through an intentional effort to integrate refugees into host countries' economies.
Businesses can harness refugees' talent and resilience by training, hiring, and integrating them into their own workforce – similarly, they can encourage their suppliers and vendors to do the same. In recent years, in Canada, Starbucks pledged to hire 1,000 refugees; and last December, H&M announced that it will work with its factories in Turkey to hire 2,000 refugees.
Companies can tap into refugees' entrepreneurial spirit and support refugee small businesses by providing loans, incubating them, or facilitating their access to market. A great example is insurance company Generali, which has previously committed to supporting 500 refugee-run businesses in Europe.
Finally, companies can engage refugees as customers by adapting their goods or services to better meet the needs of refugee communities. For example, in response to the Venezuelans refugee crisis, mobile operator Telefonica committed last year to provide 10,000 Venezuelan refugees in Colombia with access to affordable telecommunications services, whereas Mastercard is making it easier for refugees to access essential items like food and medicine through prepaid and debit cards.
When companies embark on these activities, they are not only helping refugees, but they also stand to experience considerable business benefits. The Tent Partnership for Refugees has carried out research to better understand these.
Firstly, refugees tend to be highly motivated, productive and loyal employees – in fact, retention rates for refugees tend to be much higher compared to other employees. In the manufacturing sector, for example, refugees' turnover rates are 4 percent compared to 11 percent for other staff.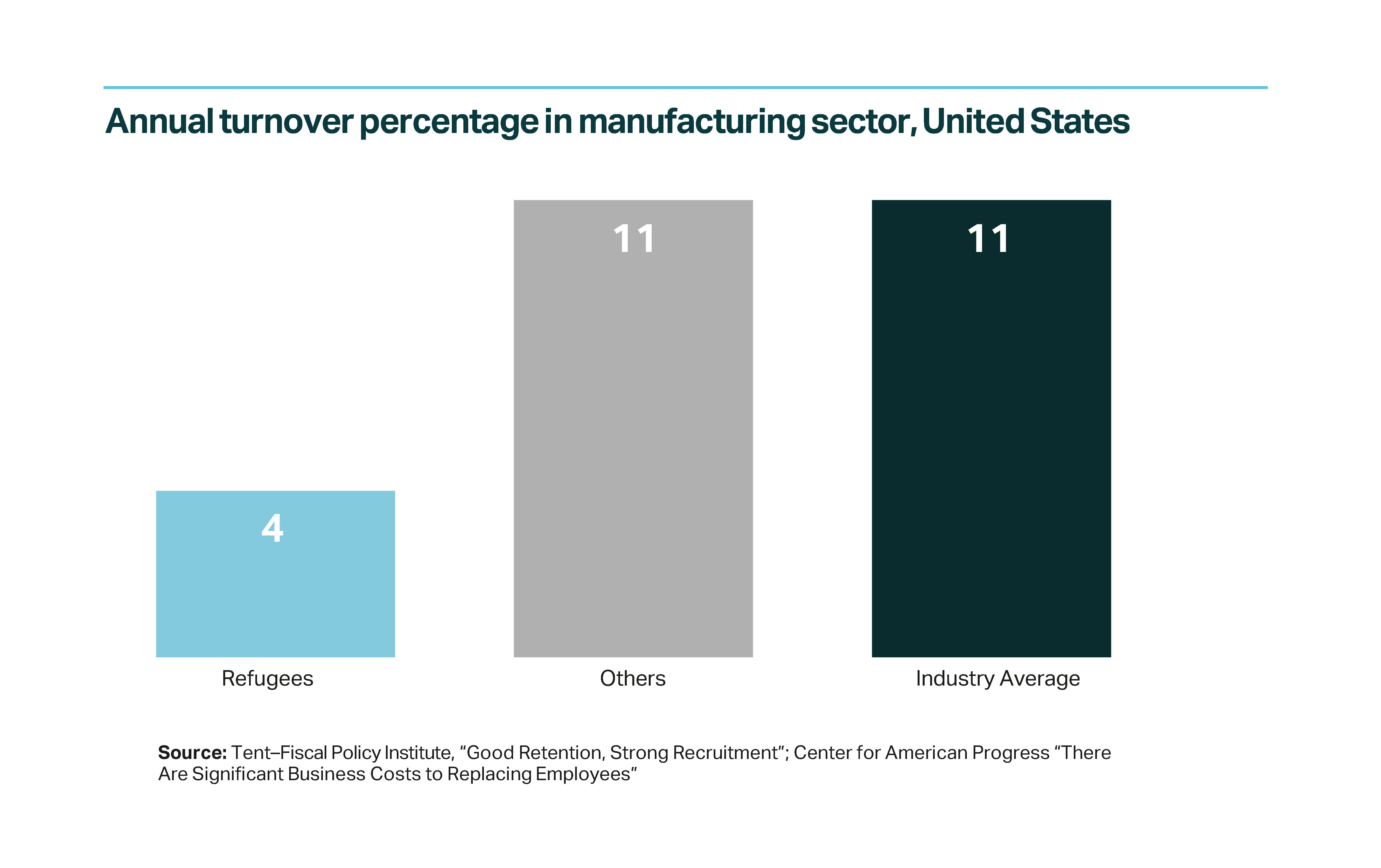 Secondly, by supporting refugees brands can earn consumer loyalty and drive sales. Research carried out in Europe and the U.S. shows that, across the board, consumers are more likely to buy from brands that help refugees – be it by hiring them directly, supporting refugee entrepreneurs, or delivering services that are tailored to them.
* On the vertical axis, zero signifies that consumers are neither more nor less likely to purchase from a brand due to its refugee hiring commitment. The chart shows that almost all the results are well above zero, meaning that, on net, many more consumers across the U.S and Europe are more likely to purchase from a brand committed to hiring refugees.
Finally, we also know that helping refugees can drive employee engagement, and can be a key motivator in attracting talent. For instance, we know that 78 to 85 percent of millennials consider a company's social and environmental commitments when deciding where to work, and they are more loyal to a company that supports these issues.
COVID-19 has only underscored that, when refugees are marginalized and excluded, they place additional strains on society; but when they have the opportunity, they are eager to contribute. There are countless examples of refugee doctors, nurses and other frontline workers going above and beyond the call of duty to serve their communities. As we emerge from this crisis, businesses have a real opportunity to lead the charge to include and integrate refugees, and truly harness their talents. Ultimately, supporting refugees is good for business and good for refugees – and, as we "build back better", we all stand to gain.